Joplin recently got a new steakhouse.  One thing about Joplin, there may be quite a few chain restaurants, however, when a new restaurant opens up, everyone and their brother seem to want to go eat there.
For Christmas my uncle and his girlfriend gave us a gift certificate to go to Longhorn Steakhouse… the new steakhouse in Joplin.  For Tbug's birthday, we were going to go eat there, however the wait time was 1 hour 15 minutes.  No thank you.  Dad travels for work and he says that's pretty much the wait time at any he's been to…. Crazy!  So we left and went to eat at Jim Bob's as there was no wait that night.
Jump forward to this past Sunday, when hubby and I woke up he wanted to go to Joplin so we got up and around and headed to town.  After we went everywhere he wanted, but before heading to the store, we decided to try out our gift certificate at Longhorn Steakhouse.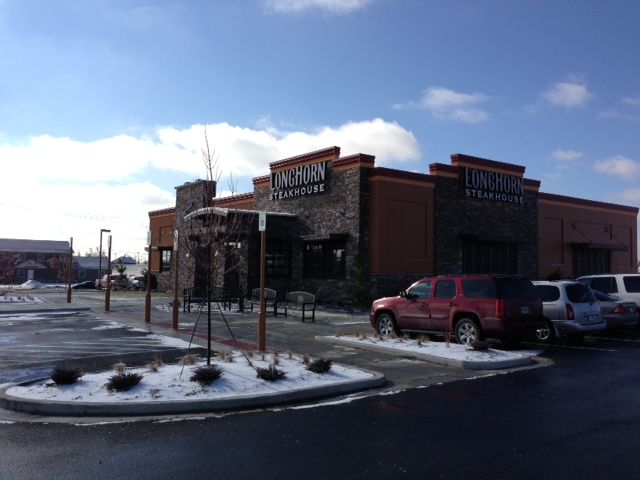 We got there around 11:45 and were immediately seated.  By the time we left there was a huge wait.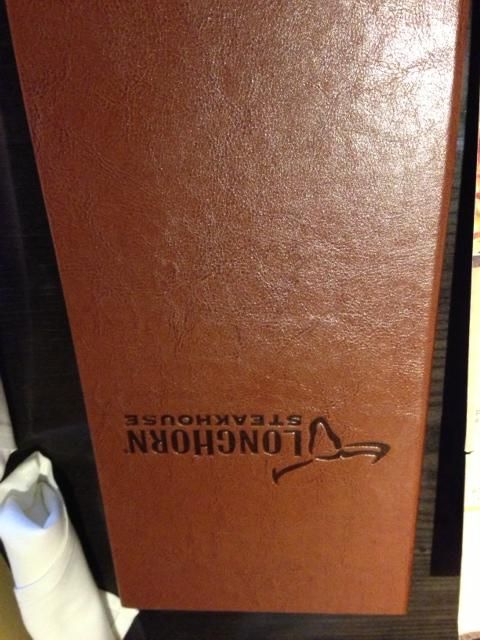 They start you off with honey wheat bread and butter.  The bread was delicious!!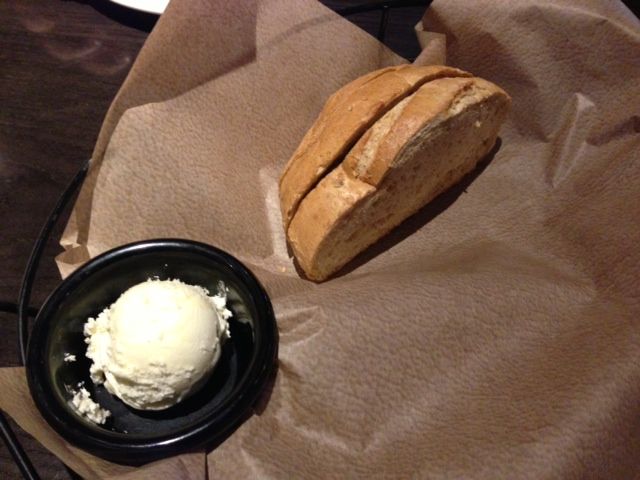 With our meal we each got a salad.  I chose Ranch dressing and hubby chose Balsamic Vinaigrette. Our server told us the Ranch was made in house fresh.  Let me tell you, some of the best ranch I've had and yes I am a connoisseur of Ranch dressing! Hubby's dressing wasn't bad either, although I'm sorry it wasn't ranch 🙂

Oh Hello 🙂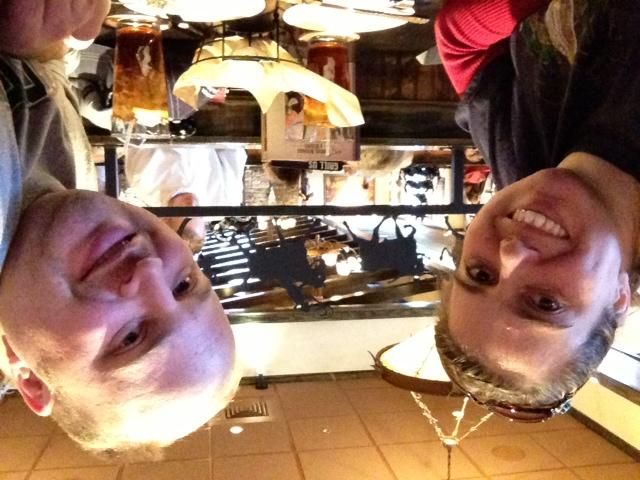 Ok so this has nothing to do with the actual restaurant, but this lady's purse, so want one.  Ma'am, you're purse is awesome!!  Anyway moving on!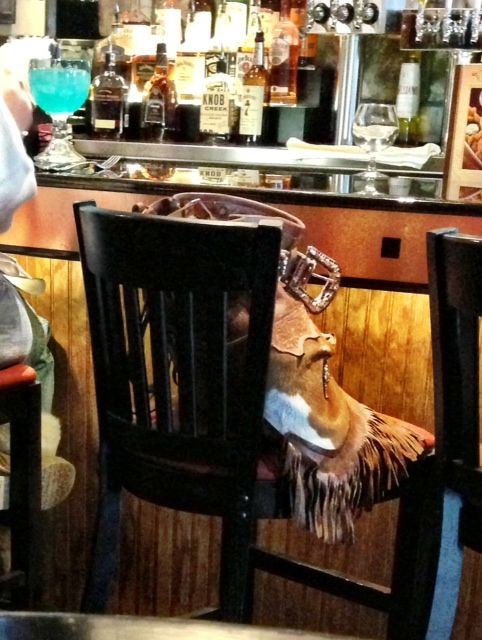 Mr. Longhorn watches over all the alcohol.  We were seated at a tall top table near the bar.  I always like sitting at tall top tables :).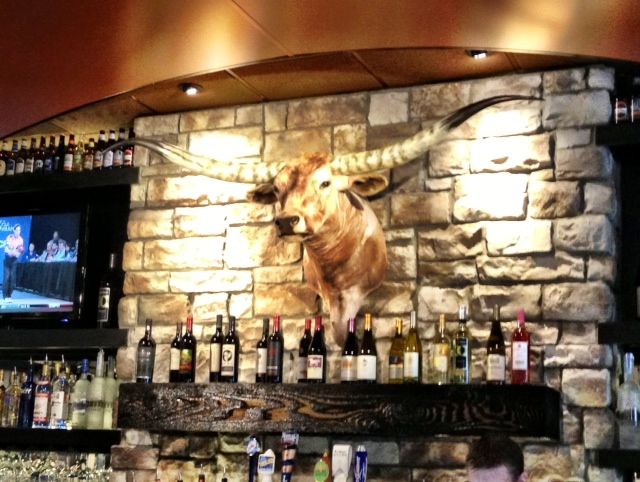 I've never been to a restaurant where the steak sauce is made table side.  I can't even tell you what all is in the sauce, but we watched her make it right there and there's this really hot piece of metal (300+degrees) that warms the steak sauce up.  The red stuff on the right was the "heat" and she said you added that to the sauce to make it as spicy or as mild as you'd like (obviously don't add the heat and it's mild).  I'm not huge on steak sauce on my steaks, but this sauce, holy cow, was it ever so awesome.

Now hubs and I both like our steak cooked Medium Rare.  On the menu we found a Porterhouse for 2.  It came with the 2 side salads, 2 side dishes and a 30oz Porterhouse steak.    This steak was excellent.  They cooked it a little more to the medium side of medium rare, but it was still juicy and flavorful!  The steak sauce just added to the flavor of the steak.
Hubby got a baked sweet potato with brown sugar and butter for his side dish.  I'm not a huge fan of baked sweet potatoes, but this one had me re-thinking that statement.  It was cooked just right and the combination of butter and brown sugar just added to it.
I went with the green beans as my side.  They were just to the crisp side of done which is what I think makes a good green bean.  Just a little snap to it when you bite in.  That's how you know they were fresh and not canned or frozen!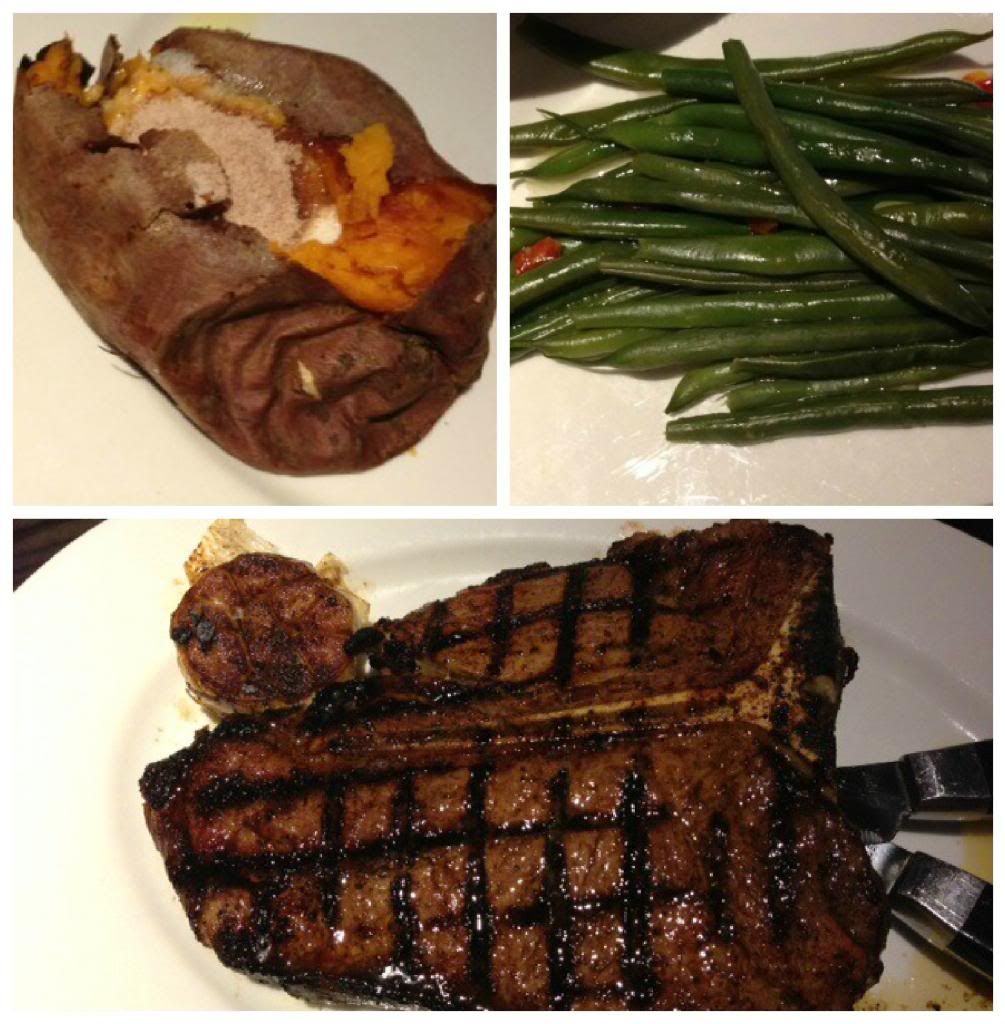 Here is a look at my steak.  And between the two of us, we couldn't finish the whole 30oz steak.  Obviously you lose a little of that to the bone, but there was still enough there that we brought home left overs.

They had this head of garlic on the plate with the steak.  I'm not exactly sure if you were supposed to eat it on the steak or not, but it was there, I tried it anyway.  I'm adventurous like that… lol.  I must admit, the garlic was good too!  Plus eating that, I warded off the vampires :).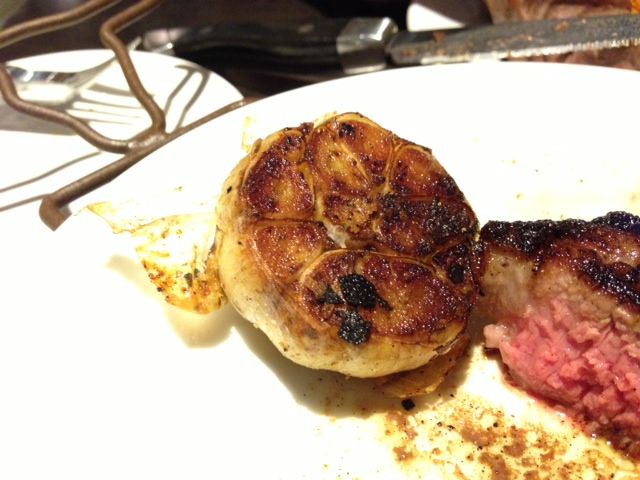 When we went to box up our left over steak, the server brought us some bread and butter to take home.  Plus, she even got us an extra carrier to bring the puppies home the bone to chew on.  Audrey & Marlie were happy about that.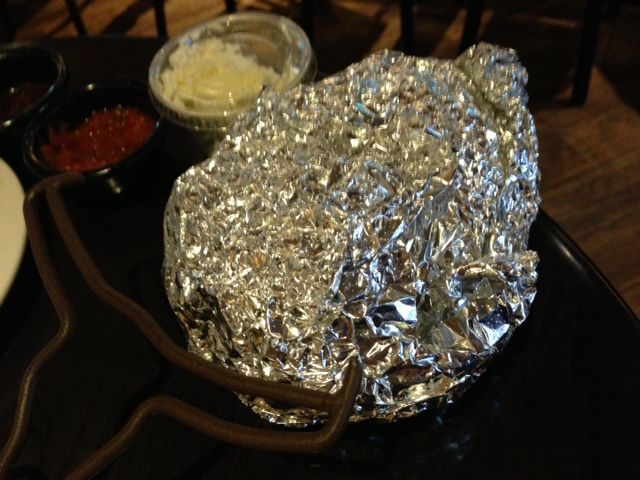 Hello Longhorn, Welcome home!