1. Tbug, Peanut and I spent Monday and Tuesday of this week chillaxing and watching movies. Why? Because we could.
2. There is an 80% chance of rain today. Do you think it will rain?
3. We get Tbug back this afternoon for the evening. She went home yesterday afternoon for cheerleading practice.
4. I've been reading the book Bringing up Bébé by Pamela Druckerman. It's about One American Mother discovering the wisdom of French Parenting. I'll let you know if I learn anything. I'm 2 chapters in.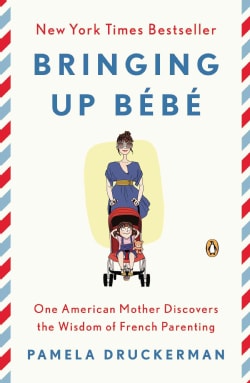 5. The Peanut loves to sleep on her tummy. That's how her mommy like to sleep too, however I haven't been able to since I became pregnant with her although we're slowly working our way back to that!
6. When I was growing up I loved watching Boy Meets World. I'd heard rumor that they were going to do Girl Meets World which was supposed to be Corey and Topanga's daughter growing up and they were going to be in it, but I've never found where anyone actually carried through with making the tv show.
7. Hubby and I are about ready to close a chapter of our life and start a new one. I can't quite tell you what's going on yet, but I will soon.
8. So when I got pregnant, my belly button turned brown/black. I asked the doctor and she said that it had something to do with the way Peanut formed. It's still brown/black almost like it is bruised and it still hurts. I think I'll have to ask the doctor about it at my next appointment. This seems soooo weird!
9. I really want to go on a vacation. I know it's not possible right now for us, but I'd soooo love to. But if we're being serious, part of me would like to be rich and famous and retire and move to a tropical island somewhere.
10. I like watermelon. I also like cherries and grapes and kiwi and strawberries. I think I want fruit right now, what do you think?
11. I really love my husband. That's all!
12. I really want to get back to some sort of exercise but I've been waiting for the doctor release. We're getting so close.
13. I also want to go swimming but still waiting for the doctor release for that as well.
14. I've tried the Jamberry wraps. My first experience didn't go very well but a friend of mine sells them and she helped me try them again. So far we're on day 3 of wearing them and they're doing much better than that first round. That first round I only lasted 2 days and I was done.
15. My hair was blonde when I was born. It did as my dad's side of the family does and progressively got darker as I got older until it was a light brown by the time I was in my early 20's.
See, Blonde.
16. I really want to highlight my hair, the thing is I finally got all the highlights out and I didn't do anything with it (except cuts) while I was pregnant. Now I'm not sure I want to put color back in it since it's all my natural color.
17. I like wearing sunglasses whether they are shading my eyes or they become a part of my accessories in my hair :). Currently my sunglasses are red :).
Apparently I've had red sunglasses before too…
18. Did you know I'd never changed a diaper until we were in the hospital. I was the youngest person in my family… I obviously wasn't going to change my own.
19. I have a scar under my bottom lip from biting through it when my mom was pulling up my pants as a kid and I fell forward and bit through my lip.
20. This month I haven't gotten dressed every day. I have spent some days in just my pj's. I have changed shirts a lot though because spit up just doesn't seem like much fun to keep wearing.
21. They're talking about "Goofy Golf" on the tv. It's like miniature golf. I think I'm ready to go miniature golfing.
22. I'm still having to wear my maternity clothes. My regular shirts fit but my pants don't fit just yet and I'm ready to have my clothes back!
23. I'm beginning to understand why new moms cut their hair off. I don't get along with short hair though so I guess I'll keep mine. I'll just keep it back :).
24. A couple weeks ago I got to take a shower at 2am courtesy of the Peanut. Spit up in my hair just kind of grossed me out.
25. I helped haul hay a few weeks ago. No I didn't pick up bales because the doctor hasn't released me so my family hasn't released me either, but I still helped so I didn't feel so bad :).
26. I finally got my wedding rings back on. I guess that means I'm still married… haha. That's the joke anyway. Hubby however had to take his off after Sunday when his tore a big hole in his hand after he met the ground via a horse.
27. Hubby refers to my eyes as either Breen or Grown. They aren't Green or Brown and I don't think you really can call them hazel… so they're either Breen or Grown.
28. Lately my favorite drinks are water, Sweet Tea and Coke.
29. In 1983, the 30th was on a Saturday.
30. It rained that day.
31. Oh and last but not least, Today is my 31st birthday.