So… are you wondering where I am???
I took over EmmyMom's blog today.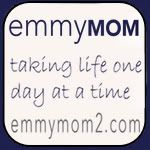 Go check out
my blog post
over there and while you're there, leave EmmyMom some love!!  Let me know that you read it please!  It's a good one.
And if you're new around these parts!  Welcome!!!  I'm so happy you're here.  Please check it out and stay a while.  Let me know you're here!!