So do you instagram?  I do.
Do you follow me?  I'm boomerbear.
Do I follow you?  I'm not sure your name {insert here}
Have you ever done one of the challenges @Fatmumslim Photoaday?  I tried 🙂
Now is a linkup from Emmy Mom and Janette of the Johanson Journey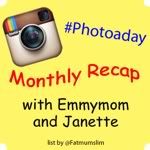 And now, on to the challenge.
Here are the challenge words/phrases for June.
1.  Morning – This is what my mornings look like…
2.  Empty – At a horse show, they were changing the cattle out.
3.  On Your Plate – Dinner
4.  Close-up – Yikes 🙂
5.  Sign – This is the detour sign I'll be looking at until at least October… blech!
6.  Hat – I look cute eh?
7.  Drink – This was right after getting home from my trip and being addicted to Coffee
8.  Six o'clock – ha
9.  Your View Today – Tire shop for a tractor tire. yey :).
10.  Best Bit of Your Weekend – Sitting on the couch with hubby
11.  Door – The doors I stare at all day long.
12.  From a low angle – Squirty during feeding time.
13.  Art – That is a drawing, I swear!
14.  Time – Time to edit photos
15.  Yellow – Stress Hard hat
16.  Out and About – Moving farm machinery
17.  In your bag – my camera bag… it was surprisingly empty
18.  Something we don't know about you – I had 6 moles removed as a freshman because they were afraid they might be cancerous.  They weren't luckily.  2 on my forehead (right side), in my hair line on my left side of my head, on the back of my neck, on my back (in picture – scar) and on my waist.
19.  Imperfect – My house is imperfect but it's mine!
20.  Fave Photo You've ever taken – it's way better than this picture shows!!
21.  Where you slept
22.  From a high angle – sitting on the hill in the hayfield
23.  Movement – Cookies
24.  On your mind – The tv show I was watching
25.  Something cute – Aren't they!?!?
26.  Where you shop – I didn't go anywhere that day.
27.  Bathroom – I don't like those… haha
28.  On the shelf – ran out of time I guess… I didn't get this one done either.
29.  Soft – The bed is definitely soft!
30.  A Friend – or two!  I actually had a Lab as a lap dog for a bit too.
I think I'm going to attempt July as well.  Wish me luck!
Stolen Borrowed from CA Girl b/c I was lazy to upload mine 🙂