I decided to be informative today… sorry, sometimes it happens, since I did my homework, I thought I'd share what I found out.  With Mardi Gras coming up this next week, I thought I'd ponder on what Cajun Cuisine was and what separates it from Creole…
+x*+x*+x*+x*+
I sometimes have a very inquisitive mind, especially when it comes to food so I started wondering how Cajun cuisine came to be:
Cajun cuisine is the style of cooking named for the French-speaking Acadian (Now day New Brunswick & Nova Scotia) or "Cajun" immigrants deported by the British from Acadia in Canada to the Acadiana region of Louisiana, USA. It is what could be called a rustic cuisine — locally available ingredients predominate, and preparation is simple. An authentic Cajun meal is usually a three-pot affair, with one pot dedicated to the main dish, one dedicated to steamed rice, special made sausages, or some other seafood dish, and the third containing whatever vegetable is plentiful or available. Ground Cayenne & Fresh Black Pepper are used often. (via wikipedia)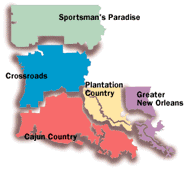 Now I've noticed that Cajun and Creole get intertwined a lot so here's what I found about Louisiana Creole
Louisiana Creole cuisine is a style of cooking originating in Louisiana which blends French, Spanish, Portuguese, Italian, Native American, and African influences, as well as general Southern cuisine. It is similar to Cajun cuisine in ingredients (such as the holy trinity), but the important distinction is that Cajun cuisine arose from the more rustic, provincial French cooking adapted by the Acadians to Louisiana ingredients, whereas the cooking of the Louisiana Creoles tended more toward classical European styles adapted to local foodstuffs. Broadly speaking, the French influence in Cajun cuisine is descended from various French Provincial cuisines of the peasantry, while Creole cuisine evolved in the homes of well-to-do aristocrats, or those who imitated their lifestyle. Although the Creole cuisine is closely identified with New Orleans culture today, much of it evolved in the country plantation estates so beloved of the pre-Civil War Creoles.  (via wikipedia)
So one commonality that they have is the Holy Trinity.  No, I'm not talking about the Father, the Son & the Holy Ghost… I'm referring to the Cooking Holy Trinity which is Onions, Bell Pepper & Celery in roughly similar quantities.
And most people look at Cajun cooking to be insainly spicy, but they prefer to look at it as "well seasoned".
Some Cajun or Cajun influenced chef's
Justin Wilson
Emeril Lagasse
Paul Prudhomme
Ryan Boudreaux
And here are some cool Cajun Websites I found:
Real Cajun Recipes
Great Cajun Cooking
Cajun Cooking Recipes
Real Cajun Cooking – Pure & Simple
Hey and after all of this, if you make it on to who wants to be a millionaire and the million dollar question you get from this blog post, by all means, I'd like some of that prize money too ;). haha!  Make checks payable to Nicole 😉 haha.
I'll leave you with this…

and I think Emeril says it best