Under the Table: Saucy Tales from Culinary School by Katherine Darling
A deliciously entertaining memoir about one woman's adventures in the student kitchens of the legendary French Culinary Institute—flavored with celebrity chefs, eccentric characters, and mouthwatering recipes. To anyone who has ever dreamed of life in a French kitchen, Katherine Darling serves up a savory dose of reality in this funny, fascinating, and altogether delightful account of her time spent slaving over a hot stove, wrestling with veal calves, and cleaning fish heads at The French Culinary Institute. As she goes from clueless amateur to certified chef, Katherine and her quirky fellow students frequently find themselves the objects of scorn as their teachers wage psychological warfare over steaming pots of bisque. It's a cutthroat world, and no one ever made a soufflé without breaking a few eggs—or cracking a few heads together. Filled with delicious food lore and trivia, and including dozens of classic and original French recipes, Under the Table takes readers deep into the trenches of one of the world's most prestigious cooking schools—and shows what really goes on behind the doors of every great restaurant kitchen.
Safe Haven by Nicholas Sparks
When a mysterious young woman named Katie appears in the small North Carolina town of Southport, her sudden arrival raises questions about her past. Beautiful yet self-effacing, Katie seems determined to avoid forming personal ties until a series of events draws her into two reluctant relationships: one with Alex, a widowed store owner with a kind heart and two young children; and another with her plainspoken single neighbor, Jo. Despite her reservations, Katie slowly begins to let down her guard, putting down roots in the close-knit community and becoming increasingly attached to Alex and his family.
But even as Katie begins to fall in love, she struggles with the dark secret that still haunts and terrifies her . . . a past that set her on a fearful, shattering journey across the country, to the sheltered oasis of Southport. With Jo's empathic and stubborn support, Katie eventually realizes that she must choose between a life of transient safety and one of riskier rewards . . . and that in the darkest hour, love is the only true safe haven.
Bossy Pants by Tina Fey
Before Liz Lemon, before "Weekend Update," before "Sarah Palin," Tina Fey was just a young girl with a dream: a recurring stress dream that she was being chased through a local airport by her middle-school gym teacher. She also had a dream that one day she would be a comedian on TV.
She has seen both these dreams come true.
At last, Tina Fey's story can be told. From her youthful days as a vicious nerd to her tour of duty on Saturday Night Live; from her passionately halfhearted pursuit of physical beauty to her life as a mother eating things off the floor; from her one-sided college romance to her nearly fatal honeymoon — from the beginning of this paragraph to this final sentence.
Tina Fey reveals all, and proves what we've all suspected: you're no one until someone calls you bossy.
(Includes Special, Never-Before-Solicited Opinions on Breastfeeding, Princesses, Photoshop, the Electoral Process, and Italian Rum Cake!)
The Coincidence of Callie and Kayden by Jessica Sorensen
Callie has grown up keeping her feelings locked away from the outside world, and as her painful past threatens to consume her life, most days it's a struggle just to breathe.
For as long as Kayden can remember, suffering in silence has been the only way to survive, until one night when Callie and Kayden's worlds collide.
After that moment, Kayden can't stop thinking about Callie and when they end up at the same college, he does everything in his power to convince her that it isn't coincidence – it's fate.
A Beautiful Mess by Elsie Larson and Emma Chapman
Ready to show your photos some love?
Whether it's of your sister's smile, your morning coffee, or your new puppy, photos are a way to connect on Facebook and Instagram, keep a visual diary of our lives, and create momentos for future generations. Elsie Larson and Emma Chapman, creators of the mega-popular DIY style blog A Beautiful Mess, are in love with photographing everyday life. Here, they share that love with 95 all-new tips and photo challenges that will inspire you to style and snap better photos and then transform them into simple yet stunning projects and gifts. You'll learn how to:
• Take the most flattering self-portraits
• Be your own stylist to turn dull, cluttered photos into pretty lifestyle photography
• Capture adorable couple portraits
• Turn everyday moments, hobbies, and rituals into amazing photos
• Show off your favorite photos by turning them into handmade jewelry, home décor, and gifts
Packed with Elsie and Emma's happy spirit and unique style, A Beautiful Mess Photo Idea Book will inspire you to capture your days, your friends, and your dreams in beautiful photos!
The Anglo-Saxon World: An Anthology
Crossley-Holland–the widely acclaimed translator of Old English texts–introduces the Anglo-Saxons through their chronicles, laws, letters, charters, and poetry, with many of the greatest surviving poems printed in their entirety.
About the Series: For over 100 years Oxford World's Classics has made available the broadest spectrum of literature from around the globe. Each affordable volume reflects Oxford's commitment to scholarship, providing the most accurate text plus a wealth of other valuable features, including expert introductions by leading authorities, voluminous notes to clarify the text, up-to-date bibliographies for further study, and much more.
Sir Gawain and the Green Knight
Written by an anonymous fourteenth-century poet, Sir Gawain and the Green Knight is recognized as an equal to Chaucer's masterworks and to the great Old English poems, Beowulf included. A green-skinned knight offers the Knights of the Round Table a simple but deadly challenge—a challenge taken on by the brave Sir Gawain. A challenge that will force him to choose between his honor and his life…
The Redemption of Callie and Kayden by Jessica Sorensen
The dark secret Kayden has kept hidden for years is out. Worse, he's facing charges for battery. The only way he stands a chance against the charges is if Callie speaks up, something he'll never ask her to do.
Callie knows Kayden is going back to his dark place and desperately wants to save him. But saving him means admitting her secrets aloud. Callie and Kayden are stronger than they think, especially when they're together. Together they move forward, face their demons, and finally start to heal from their traumatic pasts.
Faerie Queene by Edmund Spenser
First in a series of Spenser's great work in five volumes. Each includes its own Introduction, annotation, notes on the text, bibliography, glossary, and index of characters; Spenser's "Letter to Raleigh" and a short Life of Edmund Spenser appear in every volume. Framed in Spenser's distinctive, opulent stanza and in some of the trappings of epic, Book One of Spenser's The Faerie Queene consists of a chivalric romance that has been made to a typical recipe—"fierce warres and faithfull loves"—but that has been Christianized in both overt and subtle ways. The physical and moral wanderings of the Redcrosse Knight dramatize his effort to find the proper proportion of human to divine contributions to salvation—a key issue between Protestants and Catholics. Fantastic elements like alien humans, humanoids, and monsters and their respective dwelling places are vividly described.
Titus Andronicus by William Shakespeare
 "I feel that I have spent half my career with one or another Pelican Shakespeare in my back pocket. Convenience, however, is the least important aspect of the new Pelican Shakespeare series. Here is an elegant and clear text for either the study or the rehearsal room, notes where you need them and the distinguished scholarship of the general editors, Stephen Orgel and A. R. Braunmuller who understand that these are plays for performance as well as great texts for contemplation." (Patrick Stewart)
The distinguished Pelican Shakespeare series, which has sold more than four million copies, is now completely revised and repackaged.
Each volume features:
* Authoritative, reliable texts
* High quality introductions and notes
* New, more readable trade trim size
* An essay on the theatrical world of Shakespeare and essays on Shakespeare's life and the selection of texts
Paradise Lost and Paradise Regained by John Milton
Othello by William Shakespeare
The Country Wife by William Wycherley
Wycherley's comedy of marriage and infidelity is accompanied by a new introduction which illuminates matters of language and of dramatic and theatrical artistry for readers, theatre-goers and play-makers. The Country Wife is shown to surpass much Restoration comedy in structural and thematic unity by counterpointing the principals' attitudes on sex and marriage. Although the plot is episodic and portrays multiple sets of lovers, Wycherley succeeds in evolving a 'clear dramatic line.
Essay on Man and Other Poems by Alexander Pope
Aside from the celebrated title poem — a survey of the nature of the universe and man's place in it — this collection  features "The Rape of the Lock," "Ode on Solitude," "The Dying Christian to His Soul," "Elegy to the Memory of an Unfortunate Lady,"  "Epistle to Dr. Arbuthnot" and more.
Northanger Abbey, Lady Susan, The Westons, Sanditon by Jane Austin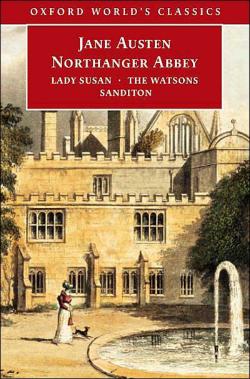 The story's heroine, seventeen year old Catherine Morland, is invited by her neighbours, the Allens, to accompany them to visit Bath for a number of weeks. While, initially, the excitement of experiencing such a place was dampened by her lack of other acquaintances, she is soon introduced to an intriguing young gentleman named Henry Tilney, though her attention was quickly taken upon meeting a young lady named Isabella Thorpe. Isabella tries to make a match between Catherine and her brother John. John Thorpe continually tries to sabotage her relationship with the Tilneys, which leads to many misunderstandings.