Wanna know how it works?  Go here to see all the details!!
Otherwise, join me on my journey won't you please?!?!
I started out by just googling mac & cheese recipes blog so that I made sure to find a blog featuring Mac & Cheese and being the Mac & Cheese Connoisseur that I claim to be I stumbled across a bunch of different recipes that looked super yummy!  But then this one, caught my eye, I found it on Kevin and Amanda.
Start with 2 cups of penne noodles.  I used the multi-colored ones because we're getting away from "white" pastas at my house, as well as white breads really.
We added some EVOO to our water just so the noodles wouldn't stick together.  And of course added salt to flavor the pasta.
While that is all going on, coat a small baking dish with some non-stick spray.
And dump your noodles in when the water comes to a boil.  Truthfully I should have used a bigger pan, but I couldn't find it.  
Once the noodles are done drain the water.
Place half the cooked noodles into the shallow dish.
Top them with a couple pats of butter (aka a couple tablespoons)
1/4 tsp Kosher Salt
And about a cup of Colby Monterrey Jack cheese.
Then place in the rest of the noodles.
ack!  Noodle overboard!  We had 2 casualties that night :(. haha
Followed by a couple more tablespoons of butter.
And the rest of the cheese.
Then we added pepper which the recipe didn't call for but we like pepper in our Mac & cheese.  Then 3/4 to 1 cup of milk or 1/3 of the bottom of the dish.
Place in a 350 degree oven for 30 minutes.
And here is the yummy, cheesy, goodness.
My only suggestion is with 30 minutes, I wound up burning some noodles so I'll cut back 10 minutes off the cooking time next time.
But other than that, it was delish and super easy!  Also a quick fix.
I served mine with a jalapeno cheese hotdog.
Print the recipe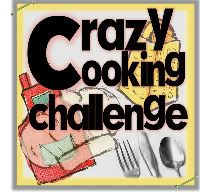 Also shared with Simply Delish Saturday!

http://www.linkytools.com/thumbnail_linky_include.aspx?id=103216